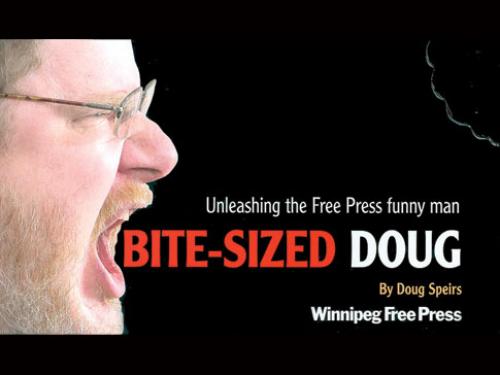 Bite Sized Doug
Doug Speirs has a book.

In this first ever collection, Bite-Sized Doug, the Free Press funnyman takes aim at the animal kingdom, especially his own two dogs, neither of whom find Doug particularly funny.

Order your copy of this 165 page paperback below for only $9.95 plus GST, shipping and handling.

**Please note higher shipping charges may apply on multipack orders or if your address is outside the greater Winnipeg area. Please email libraryservices@freepress.mb.ca to get a shipping quote for your area.

This book is also available at the Winnipeg Free Press, Coles, Chapters, Indigo, select Hallmark stores, McNally Robinson, and the Winnipeg Humane Society. If you wish to call to place your order, please call (204) 697 7377.
Bite-Sized Doug Book
Bite-sized Doug PDF ebook
Viewing a PDF on a PC
.PDF files can be viewed using Adobe Reader. (http://get.adobe.com/reader/)
Once you have purchased the .PDF file, you may download it to your computer and open the file in Adobe Reader from it's location on your PC.
Syncing and saving PDFs using iTunes for iPhone, iPad or Mac
To add PDFs to your iTunes library on your computer, drag and drop the PDF into your iTunes Book library. If you're using OS X Mavericks, drag and drop your PDFs into your iBooks library using iBooks for Mac.
To sync a PDF to iBooks on your device:
1. Select your iOS device. (Learn more about syncing your data with iTunes.)
2. Click the Books tab.
3. Select Sync Books.
4. If iTunes is set to sync only selected books, select the checkbox next to the PDF you want to sync.
5. Click Sync.
For more information, please visit: http://support.apple.com/en-us/HT4227